Titel
Agents of Transformation
Summary
A student driven platform for systemic change through art and design
Date
Fri, Jun 10 2022, 10 - 11:30am
Image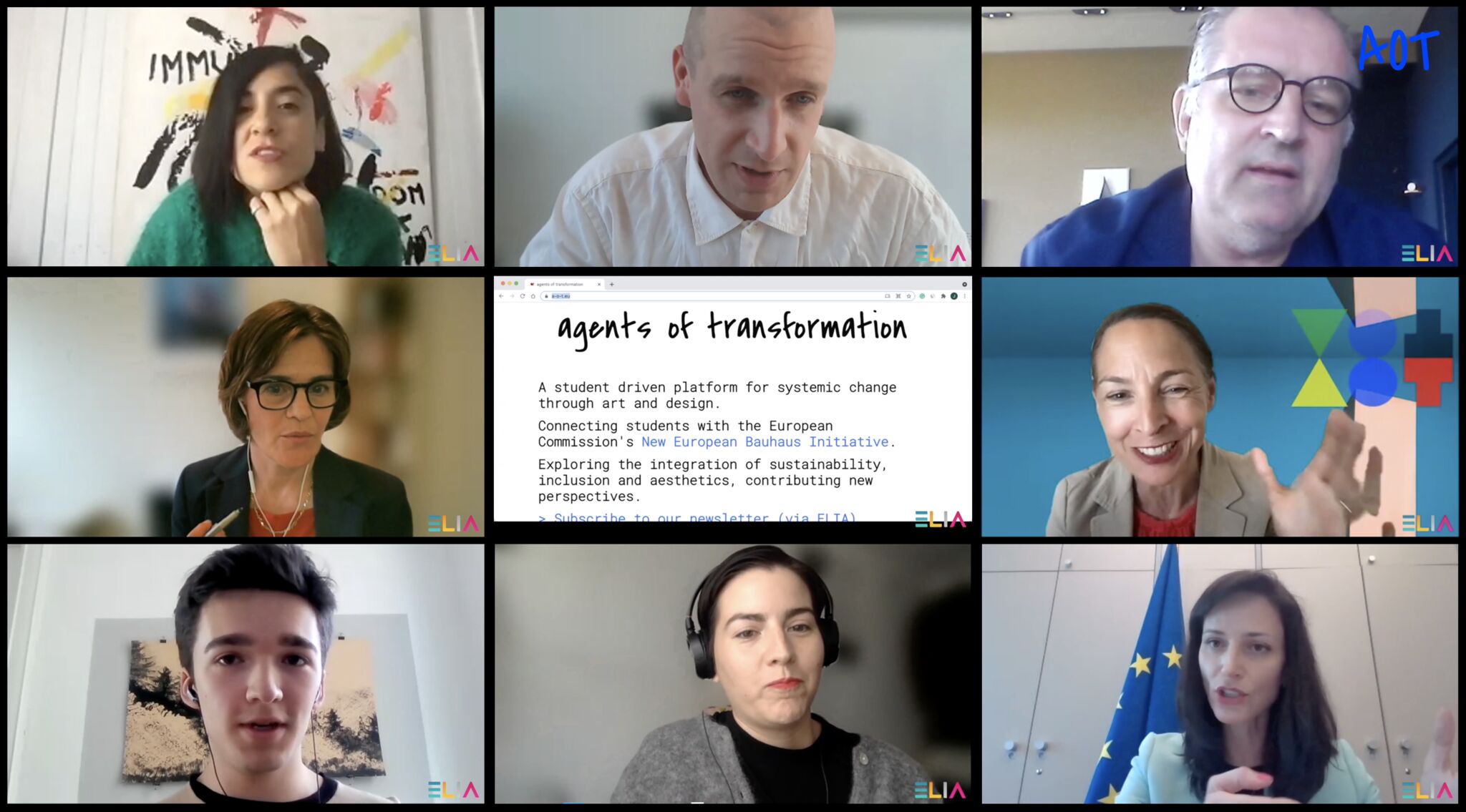 Schedule
10:00-10:05 Introduction
Andrea Thilo
10:05-10:15 Introduction
ELIA & Berlin University of the Arts
10:15-10:20 Introduction by experts
10:20-10:40 Student statement 1:
Daniel Kledtke & reactions by students & experts (using Miro board)
10:40-11:00 Student statement 2:
Lisa Hoffman & reactions by students & experts (using Miro board)
11:00-11:20 Student statement 3:
Yris Apsit & reactions by students & experts (using Miro board)
11:20-11:30 Next steps & wrap up
(Florian Hadler & Andrea Thilo)
Description
Agents of Transformation is helping institutions and decision-makers to understand the future through the lens of the next generation in arts and design, and engaging and empowering student-driven initiatives that address systemic and societal challenges.
This workshop will collect first feedback from experts on topics that have been developed by art and design students from all over the world in April 2022, covering climate awareness in higher education, protocols of care, circular cities, and the role of arts in populism. It is the preparatory session for the high-level roundtable with political decision-makers later in the summer.
Contributors
Elahe Rajabiani is a Designer at the EU policy lab where she applies Design tools and methods to help scientists and policy makers work together in a more collaborative and creative way. She is passionate about speculative design and foresight to give form to the future.
 
Bernd Fesel is director of the European Creative Business Network, now the European Federation for Creative Economy (The Creative Fed), a network of 175 local, regional, and national intermediaries and agencies from 44 nations supporting Creative Industries. Since 2010 ECBN runs the European Creative Industries Summit and spearheads research on spillover effects of the cultural creative sectors into the wider economy and society. Also, he is a lecturer at the Institute for Arts and Media Management in Hamburg.
 
Ingo Bunzeck is Director at EY Global Climate Finance and Sustainability. Building innovation alliances and stakeholder networks. Capturing public and private R&D&I funding opportunities. Moving project Europe forward. Interest revolves around the sustainable energy revolution, digitalisation of economy and sustainable transport. Admirer of the Scandinavian way of living.
 
The Berlin University of the Arts is the largest European art university with a history of more than 300 years; in teaching and scientific research it offers a unique range of expertise, from the fine and visual arts, performing arts, music, dance, design, architecture, and pedagogy to communication, cultural studies, art sciences, and philosophy, among others. With the right to confer doctorates and post-doctoral qualifications, Berlin University of the Arts is also one of the few art colleges in Germany with full university status. The complex relationships between the individual, culture, traditions, arts, design and civic society are at the center of its activities and the university fosters relevant skills for holistic and systemic approaches, such as critical thinking and problem-solving, creativity, communication, and collaboration, while heightening literacy in media and technology and promoting entrepreneurial initiative, self-direction and cross-cultural interaction. The recent years saw many initiatives for sustainability and climate change within the university, top-down and bottom-up, fostering transdisciplinary modes of thinking and creation and oscillating in a territory between arts and sciences.
 
Klasse Klima was founded in 2019 at the Berlin University of the Arts to establish the urgency of the climate crisis in creative education. Starting out by organizing a student-led transdisciplinary seminar series, still running every week, Klasse Klima further engages in events and debates on the intersection of art, design and ecology. In 2021, the European Commission honored the work of Klasse Klima with the New European Bauhaus Rising Stars Award in the category "Interdisciplinary education models".
https://klasseklima.org/
 
Yris Apsit is a transdisciplinary artist and researcher in political sciences and gender. She is interested in the topics of subversion and activism, identities, and collective empowerment. She is part of the cohort of the MA Transdisciplinary Studies at the ZHdK (CH) and is currently working (against the odds) on her project "Institutional Responsibility: Protocols of Care". She is based at the moment in her hometown Cali, Colombia.
https://www.zhdk.ch/person/yris-apsit-229018
 
Lisa Hoffmann is a visual artist, filmmaker, performer, and researcher. Her work investigates transitional states, daily life fictions & fragmented realities with a focus on ecological anxieties, and the deconstruction of dominant narratives. A graduate from Bauhaus University Weimar in sustainable product design (MFA) and from the Berlin University of the Arts in Art and Media (MFA), she is currently an active member of the climate education collective Klasse Klima.
https://lshhhh.net/
 
Daniel Kledtke, B.A. of Architecture, is currently studying for a year at NTNU Trondheim in Norway as part of an Erasmus stay. He is expected to complete his Master's degree with a focus on wood architecture at TU München in spring of 2023. As part of his Master's degree, he is working on design-build projects and urban interventions with a focus on more sustainable lifestyles and infrastructures. He gained his first professional experience and contacts with wood as a building material at A-Z Architekten in Wiesbaden, Germany, and Juri Troy Architects in Vienna, Austria, among others.
 
Florian Hadler is visiting professor for creative entrepreneurship at the Berlin University of the Arts, partner and managing director at State Studio and 25A0, and founder of the Interface Critique Platform. He develops and implements strategies for the public and private sectors, targeting c-level decision processes around technology, design, communication, and organizational development. He advocates for new narratives around society-centered technology and runs initiatives strengthening the societal impact of arts and design, and of cultural and creative industries for the green and digital transformation.
www.flohadler.com
Venue
CIVA, Rue de l'Ermitage 55, 1050 Brussels
Actionable Futures #1
COST Connect x New European Bauhaus (Day 1)
Thu, Jun 9 2022, 1 - 5pm
Welcome and key notes by Stefano Boeri, Annela Anger-Kraavi, Laura Hetel, Bernd Fesel, and Kirsten Dunlop.
Skills for change
Thu, Jun 9 2022, 5 - 6pm
Joint panel on urgent skills needs and new skillsets needed for change
Agents of Transformation
Fri, Jun 10 2022, 10 - 11:30am
A student driven platform for systemic change through art and design
COST Connect x New European Bauhaus (Day 2)
Fri, Jun 10 2022, 8:30am - 1pm
Interactive Discussion Rounds
Green Ideas and Investment
Fri, Jun 10 2022, 2 - 5pm
Break-out sessions of the European Creative Industries Summit 2022 (ECIS22)
Designscapes
Fri, Jun 10 2022, 5 - 7:30pm
Let millions of sustainable innovations blossom in our cities
Call to action
Fri, Jun 10 2022, 7:30 - 8pm
What are the next steps? How to move on?
Reception: It's time to make this right
Fri, Jun 10 2022, 8 - 9pm
Sick Architecture
Fri, May 6 - Sun, Aug 28 2022, All day
Exhibition in CIVA Brussels