The Genalguacil Experience
Florian Schneider
Fri, 11/04/2022 - 19:27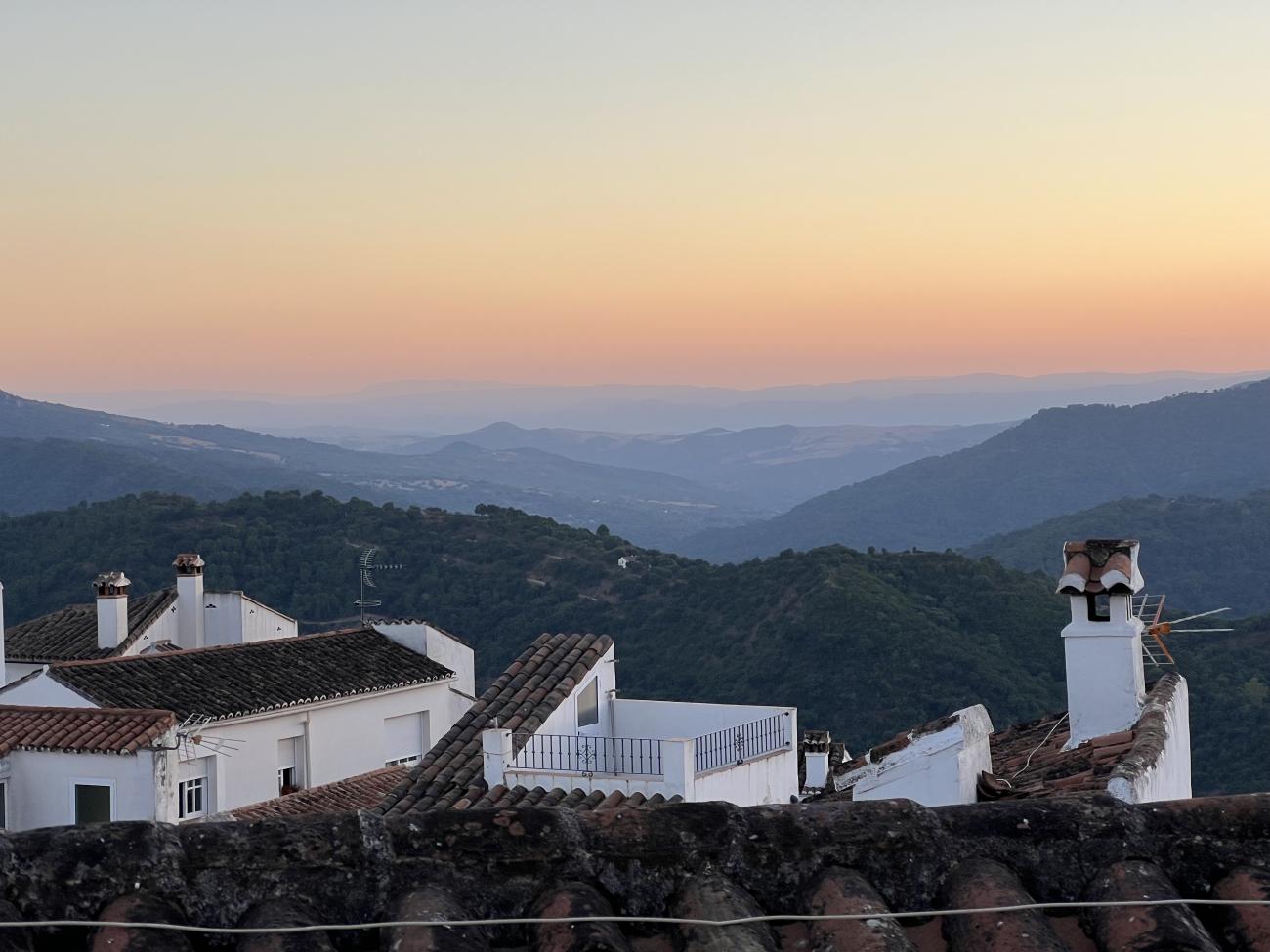 The year is 2022 CE. Much of interior Spain is facing serious depopulation. But one small village of indomitable Andalusians is holding out against the exodus — and is trying to find ways to share what it has learned.
Miguel Ángel Herrera Gutiérrez is the mayor of a small town situated near the southernmost point of Europe. Genalguacil, one of the 'pueblos blancos' of Andalusia, is home to 400 inhabitants, most of them over 65 years old. Just two generations ago, it provided a way of life for more than 1500 people. Genalguacil is far from alone: rural depopulation poses an existential threat to huge swaths not just of Spain but much of Europe.
What can be done to slow the urban exodus and reverse the mounting decay of livelihoods and infrastructure? For decades there was only one answer: tourism. However, time has shown that the cure is often worse than the disease. Even when those initiatives might succeed, they reduce local citizens to servants for holiday homeowners.
The value creation of these rentier economies depends entirely on external factors — usually in ways that magnify rather than mitigate the risks posed by global economic trends. In doing so, they undermine the most valuable resource in towns like Genalguacil: the residents' sense of agency — their confidence, creativity, and capacity to shape their destiny.
How rural innovation projects can benefit from urban experiments may be a well-intended question, but the mayor's answer is blunt: "Please don't tell us what we have to do!" It comes straight from the heart of a villager who is deeply proud of his origins — and who knows they have a bright future.
Miguel has a point that might turn out to be crucial: Rather than copying urban innovation blueprints in the countryside, the challenge is to value the knowledge villagers have accumulated over centuries and explore the impact of their specific expertise in the current societal transformation processes.
The surrounding landscape is breathtaking, and Genalguacil itself has been heralded as one of the most beautiful villages in Spain. However, its current success story has never relied on that praise, nor the area's ancient tradition of gold and silver mining, nor even the innovative Moorish architecture.
Instead, Genalguacil's success has emerged from more than 25 years of collaboration with contemporary artists. Miguel says: "To find solutions to the challenge of depopulation, Genalguacil had to reinvent itself by making contemporary art its best ally for the development of the town."
The alliance between artists and villagers began with an annual festival Encuentros de Arte' in the mid-1990s, then expanded through a series of artists' residencies on a regular basis. For almost ten years now, Genalguacil has run a museum for contemporary art which is one of a kind, in concept and ambition.
Conceptually and professionally — that is, in terms of curating, exhibiting, and collecting — Genalguacil Pueblo Museo operates on high standards one would expect from major urban exhibition centers. But even then it stands apart, because the institution and its collection are not just formally in the legal possession of the people, but indeed collectively owned by the local community.
Genalguacil's inhabitants literally run the show. All artworks are co-produced with locals who provide not just skills and crafts but also their broader knowledge and expertise. Visiting artists receive a fee during their residency, but the resulting collaborative artworks remain in the museum's collection. More than 200 artists have contributed, half of which are currently on display as public artworks in and around the village's narrow streets.
The current exhibition is an excellent example. It explores the capacities of limestone which, for centuries, has been used to whitewash the 'pueblos blancos' — in part as a centuries-old technique for sanitizing homes and protecting residents from diseases and epidemics. But this functionalist explanation can mask deeper meanings.
According to the curator Juan Francisco Rueda, "lime challenges our memory, triggers common or shared experiences," and it offers "a ritual that illuminates the ordering of the calendar and interpersonal relationships based on its use by a population that becomes, around the whitewash liturgy, a community."
Through objects, photography, public artworks, and video works, the exhibition explores how beauty is the abstract result of pragmatic efforts to dealing with urgent problems — and how recollecting and reframing these legacies can also generate radically new insights.
Can it also work the other way around? Can we use the knowledge produced by artistic research and artistic practices to intervene in today's situation characterized by the threats of climate disruptions? The Mayor is adamant: yes.
One important step has been to transform the Pueblo Museo into a foundation able to work more broadly. The next step is to start an international partnership with Norway's prestigious University of Science and Technology (NTNU) and its Academy of Fine Arts, as well as in collaboration with the design academy ELISAVA in Barcelona and a range of European networks.
The challenge isn't merely to extend the village's success, whether by endlessly reiterating it in Genalguacil or by rubber stamping it in other settings. Instead, it takes the form of a question:
How can we reach the next level of rural innovation through art and culture?
The key lies in the idea of a next level — one that can work not just for Genalguacil but for a wider, more diverse range of villages and small towns and, again, without a simplistic template that would reduce the complexity of the challenges at stake.
These days, Miguel travels to conferences all over Europe, such as the Open Living Lab Days in Turin or Porto's Bautopia, and he presents the Genalguacil experience at gatherings across Spain. These and countless other discussions have led to a profound insight: there are indeed ways to draw on successful rural and urban experiences and experiments, but they involve an outward-oriented approach rather than importing a prefabricated solution. Ultimately, it emancipates rural and remote contexts from being primarily defined by a lack of opportunities that is supposed to characterize urban or suburban areas.
Toward this end, Genalguacil has reconceived itself — and not just as a success story, though it certainly is one. The village now operates as a pilot — an open model for exploring how a local, rural economy can foster new artistic and cultural capacities in ways that transform it into a hub for sustainable innovation.
Framed in this way, Genalguacil ceases to be an exceptional, picturesque success; it becomes an important node in wider creative networks that have initiated related projects in rural or remote areas.
This consultative, collaborative approach leverages diverse experiences, enables people to see familiar settings in new ways and encourages them to share ideas in noncompetitive ways. It fosters the professionalism rural and remote areas will need to develop innovation strategies and stress test them at every level, from local to regional, national, European and global — not one by one but all at the same time.
To date, the municipality of Genalguacil has received little external support or funding.
The impressive transformation was made possible almost entirely on its own, mostly financed by the inhabitants. To scale up and reach out to similar contexts requires a financing model that respects and retains a concept of local ownership while including its citizens, precisely by engaging them with other artists and creatives, both locally and globally.
Miguel is not just the mayor; he also runs a farm and a small store in the village. He muses about a rural economy that is centered around goats. Traditionally, these animals have populated the steep mountain forests around Genalguacil, but many died in the devastating wildfires of recent summers. He sees them as a symbol of the virtues needed for the green and digital transitions: "Goats are agile, curious, intelligent, capable of complex communication, and able to form bonds."
If they can do these things, surely people can too.